Classroom Refresh Programme
In response to student feedback, and as a collaborative project involving staff and students, and informed by the success of the Learning and Teaching Test Environment (LaTTE) project, the Learning and Teaching Spaces Advisory Group (LaTSAG) are undertaking a series of refurbishments across City, Walsall and Telford campuses.
There are a number of new features and capabilities as part of the refresh, including:
‌New AV desks featuring "full digital" Audio Video (AV) technology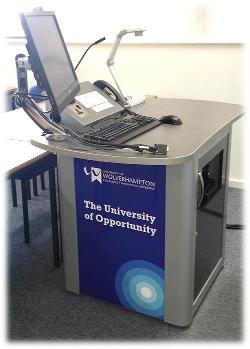 ‌The AV technology in classrooms will be "fully digital", marking a step change from older technologies, to installing the latest technologies in our spaces.
This includes digital connections (HDMI) for users' devices, and an all-digital infrastructure for the best possible sound and video capabilities. Analogue connections (VGA) are included for connectivity to older devices.
BluRay DVD players are included for the best possible playback quality, and new AV PCs are installed throughout to improve performance when using the AV desk.
All functionality is controlled via the simple 'push button' AMX panel allowing ease of use when switching between inputs e.g. PC, Document Camera, etc.
Document Camera / Visualiser
Each of the refreshed AV desks include a document camera or visualiser that will capture an A3 area on the desk and project this onto the teaching wall. This serves many purposes from showing documents, live-highlighting, showing artefacts and practical materials to the audience, and also serves as a "projector sized" whiteboard on the AV desktop, all displaying on the primary and/or secondary projectors (where available) in the teaching rooms.
The refurbished teaching spaces also benefit from refreshed decor, including digital wallpaper and feature walls in some spaces, improving heating and cooling, and better lighting control, including blinds and window treatments where appropriate.
This project marks a step-change in the standards delivered in our classrooms, and in order to ensure we are meeting the needs of staff and students, we will be conducting feedback and evaluation activities throughout the year.
In addition to the new Audio Visual equipment, support and training / staff development in making the best use of AV technologies is offered by the Directorate of Academic Support.
Times and dates of these sessions are available by following this link: Staff Training and Development – Learning and Teaching