Ira Tyagi from India
MSc Applied Microbiology and Biotechnology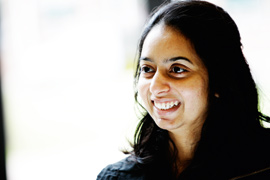 "I chose the University of Wolverhampton because its science stream is very good. I learnt new techniques, and easy and proper ways to carry out lab assignments which will be very helpful to me.
"It's very easy to settle into life and studies here because of the friendly environment and helpful University staff. Student Support Services were helpful at every step e.g. in enrolling, on city tours.
"The University buildings, facilities and technology were very good, and living in Halls of Residence was a perfect way to communicate and make friends from different countries.
"I gained good study skills, confi dence and I'm looking towards a secure future."