Study Semester Abroad Scholarship (UK) programme
Please note that due to COVID-19 we are awaiting government guidance before running this course.
Formally known as the Study Year Abroad (UK) programme, the Study Semester Abroad Scholarship (UK) programme enables students from other universities the opportunity to study a semester in English or the academic subject in the context of a modern British university for one semester.
Take a look at the International Academy Study Semester Abroad Scholarship (UK) leaflet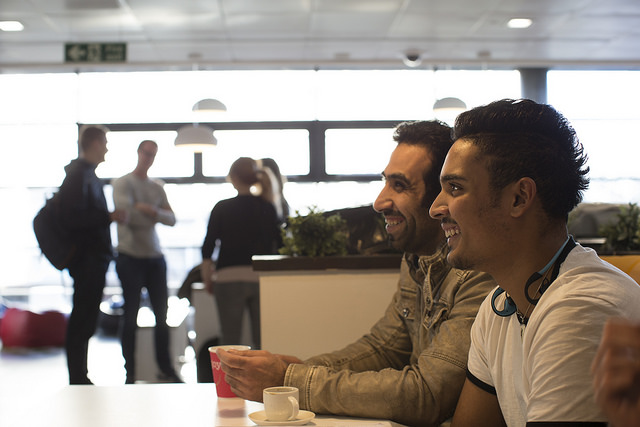 At the University of Wolverhampton's International Academy, students on the Study Semester Abroad Scholarship (UK) programme will be taught on degree courses by highly qualified staff in classes where they will interact with British and international students. They will be able to take advantage of the facilities of a modern British university while experiencing life in a cosmopolitan city at the heart of the United Kingdom.
Benefits of the Study Semester Abroad Scholarship (UK) programme includes:
Study modules on a British university undergraduate degree course at the University of Wolverhampton
Gain credits from your home university OR study with us post-graduation
Develop your language and academic skills in an immersive environment
Travel around Britain and make new friends from the UK and around the world
Great social programme including volunteering
Experience living in another culture and develop the confidence that comes with greater independence
The University of Wolverhampton offers a wide range of courses aimed at the needs of today's students. In recent years, courses which have been popular with students include the following:
Before arriving students can look through the under graduate course finder to find first and second year modules that may interest them. Students will then be guided in their choice by their university tutors on arrival. In addition to these modules international students will take an entry test. This entry test helps in guiding the student on to an appropriate English and academic skills module for their level.
There are two ways you can study, depending on your academic and English levels. The University has a number of specialist Schools and Institutes split across three campuses and faculties that teach courses covering a wide range of academic nterests designed to meet the needs of today's students.
On the Study Semester Abroad Scholarship (UK) programme, you can choose and gain credits from any first or second year module related to your area of interest (subject to availability and academic level). Your chosen modules do not have to relate to your major in your home university, but home universities may stipulate that modules must correspond with your degree subject for credit purposes. Students will be guided on arrival as to appropriate modules based on their academic and language levels.
Our University prospectus shows the complete range of our courses with details and descriptions to help you make your choice. You must choose to study two academic modules, plus one English language or academic skills module. In some cases 3 academic modules may be possible. Please check with your home university.
You will be tested on arrival, placed on an English module that corresponds to your language ability and given help to find the appropriate academic modules.
*Please check our course guides.(For example some courses run by the Faculty of Engineering have one year modules so single semester study would not be available).
At the end of their time with us the students will get a full transcript of their results that can contribute towards the home universities award or work as a stand-alone certificate.
Applicants must provide a test score or letter from your home university confirming what your levels are compared to the Common European Framework of Reference for Languages (CEFR) equivalencies.
Course possibilities:
Those students wishing to study two academic modules need an English level equivalent to TOEFL 525 (IELTS 5.5). Students whose English level is below will need to take a test first or choose English only modules.
| Study Programme | Start Dates | Finish Date |
| --- | --- | --- |
| Semester 1 Academic Programme | September 2021 | January 2022 |
| Semester 2 Academic Programme | January 2022 | May 2022 |
| | | | |
| --- | --- | --- | --- |
| Study Semester Abroad Scholarship Fees (as at 2021) | Tuition fee | Scholarship | Discounted fee with scholarship |
| Study Semester Abroad | £6000 | £2620 | £3380 (excluding accommodation) |
Accommodation

Cost per semester

(18 weeks)

Arrival date

Vacate room by

University Halls of Residence with ensuite accommodation, private bathroom, shared kitchen (5) people

£1998

(Cost per week £111)

19/09/2021

23/01/2022
Please note that these fees are subject to an annual increase, usually in line with inflation.
The Study Semester Abroad Scholarship (UK) programme is available exclusively to students on a Short Term Study Visa. This visa is less costly and bureaucratic than the Student Route Visa, however it does mean that study time is restricted to a maximum of one semester of academic study, or 6 months in total and does not allow for paid work. Find out more about your visa.
Please note that due to COVID-19, travel restrictions are in place and the UK government has quarantine laws and guidance which must be followed otherwise fines will be administered. Please check the GOV.UK website for up-to-date information.
We want our students to have the best possible time with us and to facilitate their social and personal development we offer the following:
Supportive Student Union - the Students' Union helps run events, clubs and societies, find out more.
Volunteering - volunteering helps students gain skills and experiences whilst building their resume. Find out more about volunteering at the University of Wolverhampton.

Wolverhampton is much more affordable than living in some other areas of the country such as London where rents are on average 3 times as high. Students in Wolverhampton will typically spend from £75.00 up to £95.00 per week to stay in halls of residence. Eating out and the general cost of living is also much lower making this part of the country popular with home and international students alike. After the rent is paid students can usually live quite comfortably on around £100.00 per week. Find out more about accommodation at the University of Wolverhampton.
Wongyu Oh from South Korea, commented:
"I found the accommodation standard good and this was the first time I live away from home. I have made new friends and enjoy the interaction. I enjoy the module 'Tourism Place Marketing' and found 'Thinking Through Democracy' more difficult but interesting and challenging".
Jang Eun Kyoung, South Korea, commented:
"I gained confidence in speaking and listening and learnt about Marketing and Business English. I made friends with many international students and have travelled to Liverpool, Edinburgh, Bath and London. I would recommend the University of Wolverhampton to other students".