The course is accredited by the Chartered Institute of Environmental Health (CIEH) and the first stage in becoming a registered Environmental Health Practitioner.
Protection of public health is the key principle underpinning the work of Environmental Health Practitioners (EHP) whether that is investigating a food poisoning outbreak or accident at work, through to noise problems, housing issues and contamination of the environment.
The course will:
Develop multidisciplinary knowledge and understanding of the vital and complex areas of environmental health.
Provide practically-based experiences to develop the personal and professional knowledge and skills to allow graduates to become Environmental Health practitioners
This is a practice based course with the integration of practical case studies, visits and real life examples throughout the course to develop the ability to make informed decisions, within the legislative framework to protect health and promote well-being.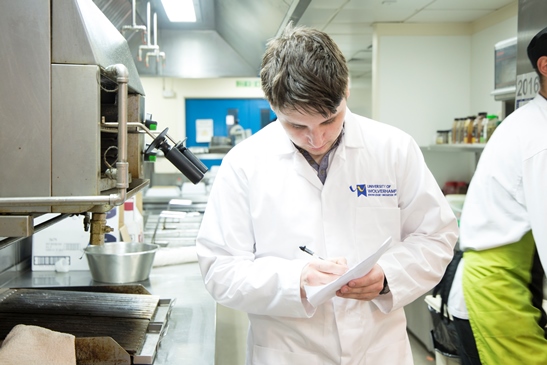 Students carrying out routine food hygiene inspection in a large catering kitchen.
Find out more about our Environmental Health course in the below video featuring our staff and students.