Our international knowledge transfer team
Marc Fleetham MBA FInstKT
Director of Business Solutions
Before joining the University of Wolverhampton in 2000, Marc worked in the Steel, Construction and Petrochemical industries as a business development/change management specialist working on operational delivery plans and at a strategic level formulating corporate direction.
Since 2000, and employed in the main business facing department at the university, Marc has been a major driving force in the universities knowledge transfer and business engagement activities helping achieve the UK national number one HEI position on Knowledge Transfer Partnerships (KTP's) in 2010. Now Director of Business Solutions Marc manages a team of approximately fifty staff who work both internally; to develop academic capacity and delivery on applied research, and externally; to generate a broad and sustainable portfolio of business engagement and income generation activities which contribute to the university's non-HEFCE income targets (£35m per year). International knowledge transfer collaborative working with strategic partners from across the world also forms a key part of the department's activities. For example, establishing sustainable KT entrepreneurship programmes in North East Nigeria; adviser to The Ministry of HE, Sultanate of Oman, on enterprise curriculum development for the country's HE sector.
Concurrently, Marc is also the regional manager of a £24million ERDF programme working with eleven other HEI's from across the West Midlands delivering over 220 graduate level knowledge transfer commercial projects.
Nigel Birch MIoD AMInstKT
Research & Development/Knowledge Transfer Director
Nigel's current role with the University of Wolverhampton involves taking capabilities and technologies from within the university and locating national and international partners for intellectual property exploitation and income generation within a global context.
Nigel brings a wide range of experience to the team; having worked as a director in a number of high value manufacturing environments and for the United Kingdom's Technology Strategy Board developing Knowledge Transfer Partnerships. Nigel is also Deputy Chair of the Knowledge Economy Network (KEN), the European Ambassador for Massachusetts Institute of Technology's Building Global Innovators Programme,
and a partner member of the Iraq British Business Council.
Rebecca Macdonald BA(hons) AMInstK
Research and Development/Knowledge Transfer Business Development Manager
Rebecca joined the university's Business Solutions in September 2012, prior to this she worked for a number of years within Further Education Business Development. Rebecca is one of the founding members of the Research and Development/Knowledge Transfer Team and has comprehensive knowledge and a wealth experience of business development through education, collaboration and Knowledge Transfer. Rebecca is a European Commission registered expert and has played a key role in attaining a number of accolades and awards for the university. She continues to work on developing and delivering collaborative international and national knowledge transfer programmes alongside facilitating innovation to take research through to commercialisation. In her spare time Rebecca is an accomplished equestrian and also dedicates time to supporting an international charity.
Christine Foss BA CIM AMInstK
Business Development Officer
Christine joined the university in July 2014 and is currently involved in researching and developing income generation opportunities, including the delivery of national and international knowledge transfer and knowledge exchange.
Christine has 10 years' experience of working in the HE sector in marketing positions and working across several European funded projects aimed at helping small and medium sized enterprises (SMEs) improve innovation and economic performance through the strategic use of design, product development, and marketing. Christine has worked closely with SMEs and new start-ups, providing bespoke support through mentoring, research reports and workshops. She has a wealth of experience developing marketing strategy and communications, competitor analysis, market positioning and insight to inform business planning.
In her spare time, Christine is a passionate foodie and keen baker of Scandinavian sweet treats.
Susan Swansborough
PA to Director/ Research and Development/Knowledge Transfer Administrator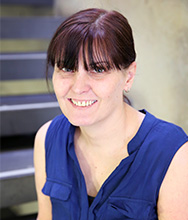 Susan is a seasoned administrator with many years of experience having held positions within the fields of finance and resource management. Sue has previously worked supporting the Universities Knowledge Transfer Partnership Manager to administer UK Government funded KTP programmes successfully. As well as supporting the Research and Development/Knowledge Transfer Team and having direct interaction with its partners she is also the Personal Assistant to the Director of Business Solutions.
Susan's strengths lie in her administrative, organisational, planning and communication skills, which she uses to provide exceptional support to the Research and Development /Knowledge Transfer Team and its partners. She is very family orientated and has been involved in raising funds for charity for many years.