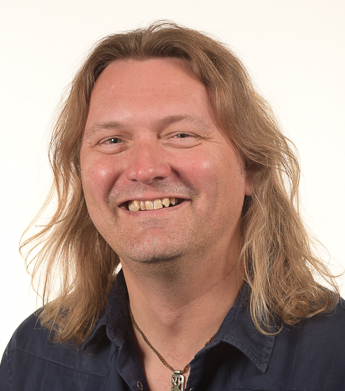 Mr Steve Cooper
Subject Leader and Senior Lecturer in Popular Music
Email address Steve.Cooper@wlv.ac.uk
Phone number 01902 323475
Location

Walsall

Faculty

Faculty of Arts

Institute

School of Performing Arts

Areas of expertise

Popular Music
Steve is the guitarist on Channel 5's prime time music show, 'Jane and Friends' featuring BAFTA winner Jane McDonald. The show has run for two seasons, averaging over a million viewers per episode, which has cemented its reputation as a headline show on 5, who also won the coveted Edinburgh Television Festival 'Channel of the Year' prize in 2018. Season 3 of the show will be broadcast in 2020.
In addition to performing with Jane, Steve co-wrote two original songs featured in the TV series and worked with a wide a variety of the featured guests from music, stage and screen including Kerry Ellis, Gwen Dickey, Shayne Ward, Russell Watson, Zoe Burkett, Tony Hadley, Duncan James and Lee Mead.
Steve has worked closely with Roland (UK) as an artist ambassador and has regularly participated in masterclass sessions across the UK giving an insight into the life of a working musician.
Steve is a renowned music educator and he is currently subject leader for popular music where he specialises in teaching music industry professional practice, performance, harmony, songwriting, and transcription. He is an acoustic and electric guitar examiner to diploma level with RGT@LCM and is currently appointed as an external examiner in Popular Music at the Edinburgh Napier University and Popular and Commercial Music at Canterbury Christ Church University.
Steve's work on the use of the iPod as a music teaching tool is internationally recognised and was published in two peer reviewed academic journals in 2008, The British Journal of Music Education (BJME) and the Journal of Music,Technology and Education. In 2013, Steve's book 'Never Mind The Bee S#arps' was published, reaching number 1 in the iTunes (UK) music book charts.
Steve is a teaching fellow of the Higher Education Academy and is a member of PRS, MCPS and PPL.
Steve holds a first class honours degree in Music and Popular Music, a Masters in Higher Education teaching and a Licentiate Diploma in guitar from the London College of Music.
As a guitar arranger and transcriber, Steve has completed more than fifty published works for Music Sales including album folios by Queens of The Stone Age (Songs for The Deaf), The Vines (Highly Evolved) and The Clash's 'Complete Chord Songbook'. Other arrangements include tracks by Foo Fighters, Morrissey, System Of A Down, Velvet Revolver, The Killers, Funeral For A Friend, Maximo Park, Nine Inch Nails and Kaiser Chiefs.

Other Publications and Conference Papers
Never Mind The Bee S#arps. A Popular Musician's Guide to the Language, Notation and Theory of Music. Book Baby. September 2013. ISBN 9781483507781,
A tutor in your back pocket: reflections on the use of iPods and podcasting in an undergraduate popular music programme. British Journal of Music Education. CUP. Cambridge. 2009,Volume 26 issue 01. ISBN/ISSN: 0265-0517,
Delivering student feedback in higher education: the role of podcasting. Music, Technology and Education, December 2008, Volume 2+3 ISBN/ISSN: ISSN: 17527066,
Podcasts: A Case Study of the use of Podcasting in Curriculum Delivery. INTED 2008, Book of Abstracts, International Technology, Education and Development Conference, 3 – 5 March, Valencia, Spain, IATED. 2008. ISBN/ISSN: 978-84-612-0192-1,
Podcasting 2.0: Approaches to Assessment & Feedback, University of Central Lancashire, E-Seminar Programme, 15th April 2008,
Podcasting in Higher Education: Current practices, underlying principles and the emerging potential of podcasts as a mechanism for curriculum delivery. ATEE Conference, Telford, August 2007,
Is The Introduction Of Podcasting Into Higher Education A Fringe Activity Or A Valuable Contribution To Distributed And E-Learning Strategies? CBLIS 2007 Conference, Crete, Greece, July 2007,
iPod technology for culture, creation and communication. Palatine Conference, 19/20 June 2006: University of Wolverhampton.
Steve Cooper is a well-established session guitarist who has performed throughout the UK & Europe for more than twenty five years. His performing and recording experience is vast and covers a wide spectrum of artists and styles.
Live performance and recording credits include international artists such as Robert Plant and Lionel Richie plus Jason Donovan, Journey South, Brenda Edwards, Jane McDonald, U.S soul legend Marc Broussard and all girl pop band, Solid Harmonie.
For more information on Steve, please visit his website for videos, images, free music lessons and links to his books and publications.