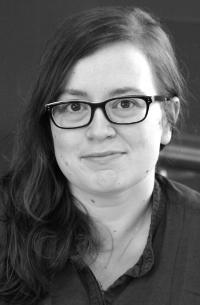 Sarah Whitfield
Senior Lecturer in Musical Theatre, Course Leader MA Musical Theatre
Email address Sarah.Whitfield@wlv.ac.uk
Phone number 01902 1985
Location

WH, Performance Hub

Faculty

Faculty of Arts

Institute

School of Performing Arts

Areas of expertise

Musical theatre, musical theatre historiography, women of the stage, music theatre, collaborative production practices, cultural values
Sarah is a musical theatre researcher, practitioner and academic. She writes about theatre history with a particular focus in uncovering the work that under-represented and minoritised groups do, and have done, in the arts. She is passionate about widening participation in theatre and in education, and in making research engaging and accessible.

As a dramaturg she has collaborated and advised on a range of projects from site-specific immersive theatre to West End musicals. Her PhD thesis proposed a cultural materialist approach in revealing collaborative practices in music theatre, and consequently challenging established historiographies; she focuses particularly on the work of Kurt Weill. She has published widely in the field of musical theatre studies, and has spoken to a variety of audiences about the musical as a form.

She has significant experience in curriculum design and delivery across drama and performing arts courses.
Her recent publications include editing Reframing the Musical: Race, Culture and Identity for Palgrave Macmillan/Red Globe, and Boublil and Schönberg's Les Misérables (The Fourth Wall Series) for Routledge. Her research focuses on recovering collaborative labour and challenging historiographies of the musical through recovery archival practices. Her work has addressed feminist readings of musical theatre, such as her work on Frozen; representations of masculinity and theatricality; and more recently on fan studies and fans' resistant readings of Hamilton as a bisexual space. She is currently collaborating with musical director Sean Mayes on a book for Methuen Drama, Bloomsbury, Black Performance Practice as British Musical Theatre: 1900 - 1950 to be published in 2021.
PGCHE in Creative and Academic Practices in Higher Education 2011
PhD in Drama, Queen Mary, University of London 2007-2010
MA in Musical Theatre, Goldsmiths College, University of London 2003-2004
BA (Hons) in Theatre Studies (Dramaturgy), University of Leeds (Bretton Hall Campus) 2000 - 2003
Publications
(Under contract) (2021) Sarah Whitfield and Sean Mayes, Black Performance Practice as British Musical Theatre: 1900 - 1950, Bloomsbury Academic
(2021) 'A Part for the Public and Another for You': How Fandom Rewrote Bisexuality into Hamilton (2015)' in Theatre Fandom ed by Kirsty Sedgman, University of Iowa Press, Fandom & Culture series eds Paul Booth & Kathy Larsen.
(2019) Editor Reframing the Musical: Race, Culture and Identity, Red Globe Press (formerly Palgrave Macmillan)
(2018) Boublil and Schönberg's Les Misérables (4THW) Routledge
(2017) – 'You wanna hear the real story?': (Mis)remembering masculinity in Clint Eastwood's adaptation of Jersey Boys' for Twenty-First Century Musicals: From Stage to Screen ed. by George Rodosthenous (Routledge)
(2017) - 'For the First Time in Forever - Locating Frozen as a feminist Disney musical' for The Disney Musical on Stage and Screen: Critical Approaches from 'Snow White' to 'Frozen'. ed. by George Rodosthenous (Bloomsbury Methuen)
(2016) 'Next you're Franklin Shepard Inc.?' Composing the Broadway musical, a study of Kurt Weill's working practices', Studies in Musical Theatre, 10(3) DOI: https://doi.org/10.1386/smt.10.2.163_1
(2015) Twelve Awesome Women of the Stage You've Never Heard of!, Jump Books (targeted for a 8-15 year old audience)
(2012) 'Two different roads to new musicals in 2011 London: London road and road show', Studies in Musical Theatre, 5(3), pp. 305–314. doi: 10.1386/smt.5.3.305_1.
Book Reviews:
(2018) 'Elizabeth L. Wollman A Critical Companion to the American Stage Musical Bloomsbury, 2017. 312 p. £21.99. ISBN 978-1-4725-1325-0'. New Theatre Quarterly, 34(2), 196-197. doi: 10.1017/S0266464X1800012X
(2017) 'Gordon Robert, Jubin Olaf, and Taylor Millie British Musical Theatre since 1950 London: Bloomsbury Methuen Drama, 2016. 274 p. £21.99. ISBN: 979-1-472-58436-6.', New Theatre Quarterly, 33(2), pp. 200–200 doi: 10.1017/S0266464X17000239.
(2017) Singing and dancing to The Book of Mormon: critical essays on the Broadway musical, Studies in Theatre and Performance, DOI: http://dx.doi.org/10.1080/14682761.2017.1284208
Encyclopedia Entries:
(2019) 'John Dobbs' (entry), ed by John Goodridge and Bridget Keegan, A Database of British and Irish Labouring-Class Poets 1700 - 1900
Conference Papers
(2017) Chairing the panel "Scene Stealing: Centering on Blackness in Musical Study and Pedagogy" at ATHE 2017, Las Vegas; presenting the opening paper 'History has its eyes on us: a call for antiracist approaches to musical theatre scholarship'
(2017) 'Transforming the institution of musical theatre studies: the feminist killjoy in the corner' at Song, Stage and Screen XII, University of Surrey
(2017) Invited presentation 'Missing stories in musical theatre studies: acts of restoration, recovering, reframing' at 'Sources and Archives in Screen Sound Studies', University of Huddersfield
Browne, S and Whitfield, S (2016) 'From Hair to Hamilton, Who Lives Who Dies Who Tells Your Story?' Conference Paper Song, Stage and Screen XI, City University of New York, N.Y
2015 Senior Lecturer in Musical Theatre, University of Wolverhampton
2012-2015 Senior Lecturer in Performing Arts, Anglia Ruskin University
2010-2012 Award Leader, Senior Lecturer in Music Theatre, Falmouth University College
2008-2010 Teaching Associate, Queen Mary, University of London
Postgraduate Supervision:
Gus Gowland (expected to complete 2019): Standing in the Shadows?: Reframing homosexuality in musical theatre, University of Wolverhampton
Isikhuemen Agboaye (awarded 2019) Exploring postcolonial trauma in Nigeria as stimulus for creating new plays, University of Wolverhampton
Sarah is available for PhD supervision in the following areas:
American musical theatre
Kurt Weill's collaborative work for Broadway
Women's labour
Creative practices
Twitter: @sarahinthepark