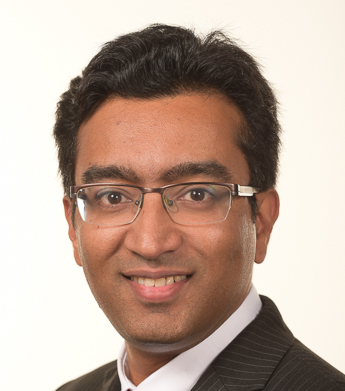 Professor Prashant Pillai
Professor of Cyber Security and Director of the Wolverhampton Cyber Research Institute
Email address P.Pillai@wlv.ac.uk
Phone number 01902 322194
Faculty

Faculty of Science and Engineering

Institute

School of Mathematics and Computer Science

Areas of expertise

Over the years, Prof Pillai has taught and researched a range of subjects in Electronic Engineering and Computer Sciences. Areas of expertise are in computer networks and cyber security and include:

Cyber Security – security protocols, AAA, cyber analytics, etc.
Communication networks – 4G/5G mobile networks, Satellite Communications, etc.
Prof Prashant Pillai has over 15 years of research experience and specializes in the area of Communication protocols and Cyber Security. He is currently the Director of the Wolverhampton Cyber Research Institute. The Institute comprises of over 10 academic staff and focuses of research in the area of Cyber Security and intelligent and secure cyber physical systems/IoT.
Prof Pillai was previously a Reader in Cyber Security and the Head of the Cyber Research Group at Oxford Brookes University. Prior to that he was Deputy Head of Electrical Engineering at the University of Bradford. He was also the Director of PG Research for over 4 years and oversaw all aspects of the PGR provision for the Faculty of Engineering and Informatics, ranging from strategic planning, policy development, process management, recruitment and marketing, and day-to-day operational and administrative duties.
He has assisted in acquiring a research income of over £2.5m over the last 6 years with grants funded by EU, Innovate UK, ESA, Britich Council, etc. Prof Pillai has co-edited 2 books and has co-authored around 90 peer reviewed papers at leading journals and conferences and 3 book chapters. He has supervised 40 MSc, 35 Final Year, 6 PhD and 1 MPhil projects to completion.

He is the Associate Editor of IEEE Transaction on Aerospace and Electronic Systems and an Editor of the Journal of Emerging Trends in Engineering and Applied Sciences (JETEAS).
He was recently appointed as a Co-Chair of the 5G-Satellite subgroup of the IEEE 5G Technology Roadmap Working Group. He was also recently appointed a founding member of the IEEE special interest group on Big Data for Cyber Security and Privacy.
His general research interests:
- Network security Protocols
- Security for Critical National Infrastructure
- Security for Autonomous systems
- Data analytics for Cyber Security
- Protocol Development in Heterogeneous Networks
- Secure Wireless Networks / Internet of things
Expertise in Security area:
- Authentication, Authorisation and Accounting Protocols (RADIUS, DIAMETER)
- Security for WLAN devices (EAP, 802.1x, 802.11i)
- Security for Wireless Sensor Networks (SPINS, TinySec, microTESLA, etc)
- Security for DVB systems (Secure ULE)
- Virtual Private Networks (L2TP, PPTP, IPSec, SSL, TLS)
- Security Key management mechanism (IKE, ISAKMP)
- Multicast Security Protocols (GDOI, MIKEY, GSAKMP)
- Cryptography (AES, RSA, DES, etc)
- Risk Assessment and quantification (ISO27001, IS1)
• Fellow of British Computer Society (FBCS)
• Fellow of the Higher Education Academy (FHEA)
• Senior Member of the Institute of Electrical and Electronics Engineers (SMIEEE)
• Member of the Institution of Engineering and Technology (MIET)
• ISO/IEC 27001 Information Security Management System Lead Implementer
T. Sigwele, P. Pillai, A. Sangodoyin and Y.F. Hu, "Security Aware Virtual Base Station Placement in 5G Cloud Radio Access Networks", 9th EAI International Conference on Wireless and Satellite Systems, United Kingdom, September 2017.
A. Sangodoyin, T. Sigwele, P. Pillai, Y.F. Hu, I. Awan and J. Disso, "DoS Attack Impact Assessment on Software Defined Networks", 9th EAI International Conference on Wireless and Satellite Systems, United Kingdom, September 2017.
U. Anuebunwa, H.S. Rajamani, P. Pillai and O. Okpako, "Investigating the Impact of Cyber-Attack on Load Profile of Home Energy Management System", 3rd International Workshop on Communication Applications in Smart Grid, United Kingdom, September 2017.
T. Sigwele, P. Pillai, A.S. Alam, Y. F. Hu, "Fuzzy-Logic Based Call Admission Control in 5G Cloud Radio Access Networks with Pre-emption", EURASIP Journal on Wireless Communications and Networking, accepted on 31st August 2017.
Y.F. Hu, P. Pillai, J.P Li, B. Ayo, "Validating CRRM for Aeronautical Communications Using a Formal Description Technique", accepted for the 35th AIAA International Communications Satellite Systems Conference (ICSSC), Oct 16-19, 2017. Trieste, Italy.
O. Okpako, H.S. Rajamani, P. Pillai, U. Anuebunwa, and K.S. Swarup, "A Comparative Assessment of Embedded Energy Storage and Electric Vehicle Integration in a Community Virtual Power Plant", 3rd International Workshop on Communication Applications in Smart Grid, United Kingdom, September 2017.
T. Sigwele, P. Pillai and Y.F.Hu, "Saving Energy in Mobile Devices Using Mobile Device Cloudlet in Mobile Edge Computing for 5G", accepted for the 13th IEEE International Conference on Green Computing and Communications (GreenCom-2017).
Mokryani G, Hu YF, Pillai P, Rajamani HS, "Active distribution networks planning with high penetration of wind power", Renewable Energy, Volume 104, pp 40-49, April 2017
U. R. Anuebunwa, H.S. Rajamani, P. Pillai, O. Okpako, "Evaluation of User Participation Capabilities in Demand Response Programs for Smart Home Applications", accepted for PowerAfrica 2017.
A.S. Alam, Y.F. Hu, P. Pillai, K. Xu, A. Smith, "Optimal Datalink Selection for Future Aeronautical Telecommunication Networks" accepted for IEEE Transactions on Aerospace and Electronic Systems (TAES), March 2017.
O. Okpako, H.S. Rajamani, P. Pillai, U. Anuebunwa, K.S. Swarup, "A New Performance Index for Evaluating Community Virtual Power Plant with Domestic Storage", accepted for 2017 IEEE PES General Meeting, July 16 - 20, 2017 in Chicago, IL, USA.
T. Sigwele, A.S. Alam, P. Pillai and Y.F.Hu, "Energy–Efficient Cloud Radio Access Networks by Cloud based workload consolidation for 5G", Journal of Network and Computer Applications, vol 78, pp1-8, 15 January 2017.
R.H.A. Zubo, G. Mokryani, H.S. Rajamani, J. Aghaei, T. Niknam and P. Pillai, "Operation and Planning of distribution networks with integration of renewable distributed generators considering uncertainties: A review", Renewable and Sustainable Energy Reviews, accepted, 23 October 2016, http://dx.doi.org/10.1016/j.rser.2016.10.036.
U Anuebunwa, HS Rajamani, P Pillai and O. Okpako, "Investigating the Impact of Discomfort in Load Scheduling Using Genetic Algorithm", IEEE International Conference on Power Systems Technology (IEEE POWERCON2016), Australia, 2016
T. Sigwele, A.S. Alam, P. Pillai and Y.F Hu, "On the Energy Minimization of Heterogeneous Cloud Radio access Networks", 8th EAI International Conference on Wireless and Satellite Systems (WiSATS), Cardiff, September 2016.
O. Okpako, P. Adamu, HS Rajamani and P Pillai, "Effect of pricing on optimisation of Virtual Power Plant with Storage and Renewable Generation at Domestic Level", 8th EAI International Conference on Wireless and Satellite Systems (WiSATS), Cardiff, September 2016.
O. Okpako, HS Rajamani, P Pillai, U Anuebunwa and KS Swarup, "Evaluation of Community Virtual Power Plants under various pricing schemes", 4th IEEE International Conference on Smart Energy Grid Engineering (IEEE SAGE 2016), Canada, August 2016.
O. Okpako, H.S. Rajamani and P Pillai, "Smart energy resource sharing algorithm for virtual power plants", IEEE PES Power Africa 2016, Livingstone, Zambia, June 28-July 2, 2016
U. Anuebunwa, H.S. Rajamani and P. Pillai, "Novel genetic algorithm for scheduling of appliances", IEEE PES Power Africa 2016, Livingstone, Zambia, June 28-July 2, 2016
A. Ahmed, Y.F. Hu, J. Noras, P. Pillai, et.al, "A universal two-way approach for estimating unknown frequencies for unknown number of sinusoids in a signal based on Eigenspace analysis of Hankel matrix", Signal Image and Video Processing, Volume 10 Issue 3 pp 543-549, March 2016.
S. Ravichandaran , A. Vijayalakshmi, K.S. Swarup, H.S. Rajamani and P. Pillai, "Short Term Energy Forecasting Techniques for Virtual Power Plants", 6th IEEE International Conference on Power Systems 2016 (IEEE ICPS2016), New Delhi, India, 4-6th March 2016
T. Sigwele, A.S. Alam, P. Pillai and Y.F. Hu, "Evaluating energy efficient cloud radio access networks for 5G", 11th IEEE International Conference on Green Computing and Communications, Sydney, Australia, December 2015.
Ahmed A., Hu Y.F., Noras J., Pillai P., et.al, "Random matrix theory based spectrum sensing for cognitive radio networks", 6th International conference on Internet Technology and Applications, Wrexham, UK, September 2015
Sigwele T., Pillai P. and Hu Y.F., "iTREE: Intelligent Traffic and Resource Elastic Energy Scheme for Cloud-RAN", The 3rd International Conference on Future Internet of Things and Cloud, Rome, Italy, August 2015.
Amir M., Pillai P. and Hu Y.F., "Aggregated Sensor Payload Submission Model for Token-Based Access Control in the Web of Things", 3rd International Conference on Future Internet of Things and Cloud, Rome, Italy, August 2015
Jaff E.K., Susanto M., Ali M., Pillai P. and Hu Y.F., "Network coding for Multicast Communications over Satellite Networks", 7th EAI International Conference on Wireless and Satellite Systems, Bradford, UK, July 2015.
Sigwele T., Pillai P. and Hu Y.F., "Elastic Call Admission Control using Fuzzy Logic in Virtualized Cloud Radio Base Stations", 7th Wireless and Satellite systems (WiSATS 2015), Bradford, UK, July 2015.
Ahmed A., Hu Y.F., Noras J., Pillai P., et.al, "Spectrum sensing based on Maximum Eigenvalue approximation in cognitive radio networks.", 16th IEEE International Symposium on a world of Wireless Mobile and Multimedia Networks (WoWMoM 2015), Boston, USA, June 2015.
Verma S., Pillai P. and Hu Y.F., "An energy efficient and scalable slot-based privacy homomorphic encryption scheme for WSN integrated networks", International Journal of Advanced Smart Sensor Network Systems, vol. 5, no.1, pp. 1-22, April 2015
Jaff E.K., Pillai P. and Hu Y.F., "IP multicast receiver mobility support using PMIPv6 in a global satellite network" IEEE Communications Magazine, IEEE, vol. 53, no. 3, pp. 30-37, March 2015.
Verma S., Pillai P. and Hu Y.F., "Energy-Efficient Privacy Homomorphic Encryption Scheme for Multi-Sensor Data in WSNs", Future Information Security Workshop, COMSNETS 2015, Bangalore, India, January 2015.
E. K. Jaff, M. Ali, P. Pillai and Y. F. Hu, "Satellite mobile multicast for aeronautical communication," 2014 Sixth International Conference on Wireless Communications and Signal Processing (WCSP), Hefei, pp. 1-6., 2014
E.K. Jaff, P. Pillai and Y.F. Hu, "PMIPv6-Based IP Mobility Management Over Regenerative Satellite Mesh Networks", 7th Advanced Satellite Multimedia Systems Conference (ASMS 2014), Livorno, Italy. September 2014.
M. Amir, Y.F.Hu and P. Pillai, "Effective Knowledge Management using Tag-Based Semantic Annotation for Web of Things Devices", 15th European Conference on Knowledge Management (ECKM2014), Portugal, September 2014.
T. Sigwele, P. Pillai and Y.F.Hu, "Call admission control in cloud radio access networks", 2nd International conference on Future Internet of Things and Cloud, Barcelona, Spain, August 2014.
M. Amir, P. Pillai and Y.F.Hu, "Cascading Permissions Policy Model for Token-Based Access Control in the Web of Things", 2nd International conference on Future Internet of Things and Cloud, Barcelona, Spain, August 2014.
Cheng Y., Xu K., Hu Y.F., Pillai P. and et.al., "Technology demonstrator of a novel software defined radio-based aeronautical communications system", IET Science, Measurement and Technology, vol. 8, no. 6, pp. 370-379, July 2014.
Jaff E.K., Pillai P. and Hu Y.F., "Multicast Source Mobility Support for Regenerative Satellite Networks" International Journal on Advances in Internet Technology, IARIA, vol. 7, issue 1-2, pp.148-160, 2014
Plass S., Hermenier R., Lucke O., Cheng Y. and Pillai P., et,al., "Flight Trial Demonstration of Seamless Aeronautical Networking" IEEE Communications Magazine, IEEE, vol. 52, no. 5, pp.119-128, May 2014
Amir M., Pillai P. and Hu Y.F., "A Generic & Extensible Asset Model for a Semantic Collaboration Framework" International Journal of Advanced Computer Technology, vol. 3, no. 1, pp. 88-96, Feb 2014