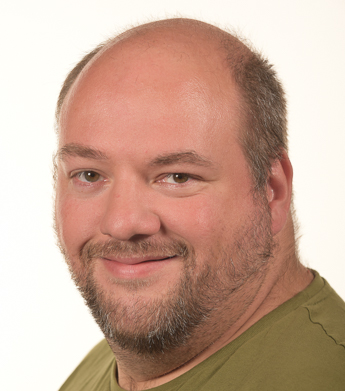 Mr Peter Bridges
Principal Technician
Email address pete.bridges@wlv.ac.uk
Phone number 01902 2630
Location

WH221

Faculty

Faculty of Arts

Institute

School of Performing Arts

Areas of expertise

Theatrical Lighting, Set Building, video editing.
Peter loves all areas of theatre and is a founding member of Tomorrow Productions theatre company established in 2001. Over the years Tomorrow Productions have built up a strong reputation in the West Midlands region for only producing original theatrical work. Over the years Peter has received numerous awards on the amateur festival circuit for acting and playwriting and has gone on to see some of his plays published and performed by other companies around the country.
Prior to working for the University Peter has worked professionally both within large scale receiving houses such as the Birmingham Hippodrome and small scale touring companies around the country as both an actor and backstage. Peter now uses his experience in amateur and professional theatre both large and small to help support the students on the Drama and Acting Courses..
BA(Hons) Drama and Performance Studies with associated Media and Cultural Studies
Jack - One Act Festival Play
Bloody Mary - One Act Festival Play
September 2013 to Present Day: University of Wolverhampton - Principal Technician
January 2007 to September 2013: University of Wolverhampton – Drama Technician.
January 2007 - 2012: Birmingham Hippodrome - Casual Technician.
Oct 2006 to January 2007: Birmingham Hippodrome – Theatre Technician.
June 2006 – Oct 2006: Freelance Lighting designer/Set builder.
October 2005 - June 2006: Midland Arts Centre - Casual Technician
June 2003 - June 2006: Freelance Technician