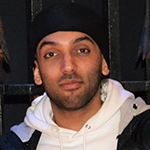 Dr Manpal Bhogal
Lecturer in Psychology
Email address M.S.B2@wlv.ac.uk
Phone number 01902 322925
Location

City Campus

Faculty

Faculty of Education Health & Wellbeing

Institute

Institute of Human Sciences

Areas of expertise

Evolutionary Psychology, Social Psychology, and Quantitative Analysis and Research Design
I completed my undergraduate psychology degree at the University of Wolverhampton in 2007. Upon completion, I went onto study for a MSc in Health Psychology at Aston University in 2008. I then worked at NHS trusts in Sandwell and Shropshire as a Health Improvement Advisor.
I then took an interest in Evolutionary Psychology and began studying for my PhD at the University of Wolverhampton, under the supervision of Prof. Ken Manktelow and Dr Niall Galbraith. Whilst competing my PhD, I held a Research Associate post with HEFCE, and then took a full-time post at Coventry University as an Assistant Lecturer in Psychology, primarily teaching and supervising students on the Undergraduate Psychology course.
Since then, I have worked as a Lecturer in Psychology at Staffordshire University, and then joined the University of Wolverhampton as a Lecturer in Psychology. Here, I also lead the Evolution and Human Behaviour Research Group, which falls under the Cognitiion and Individual Differences research cluster. I am also an associate editor of Current Psychology. Feel free to contact me if you'd like to discuss a PhD opportunity.
My research interests lie in Evolutionary Psychology, Social Psychology, and Individual Differences.
I am interested in the following areas of research: Prosocial Behaviour, Mate Choice, Attractiveness, Sexual Selection, Intra-sexual competition, Cyber Dating Abuse
Methods: Behavioural Game Theory, Quantitative Methods
Chartered Psychologist with the British Psychological Society

Associate Fellow of the British Psychological Society

Fellow of the Higher Education Academy
Higher and Professional Education PgCert (Staffordshire University)

PhD Experimental Psychology (University of Wolverhampton)

NCFE Counselling Skills, Level 2 (City of Wolverhampton College)

MSc Health Psychology (Aston University)

BSc (hons) Psychology (University of Wolverhampton)
Associate Editor: Current Psychology (Springer)

Editorial Board Member: Basic and Applied Social Psychology (Taylor & Francis)

Ad-hoc Reviewer for several international Psychology journals

Member of the Cognition and Individual Differences Research Cluster/Cyberpsychology Research Group (University of Wolverhampton)

Research collaborations with Psychology academics at Osaka University (Japan), University of Sibiu (Romania), University of Worcester (UK), Staffordshire University (UK) and Arden University (UK)