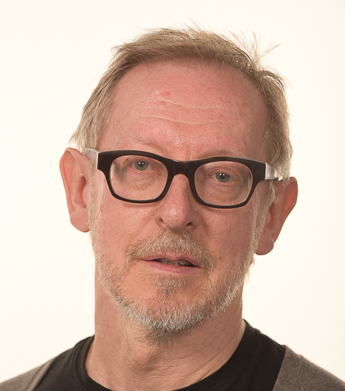 John Roberts
Professor Art & Aesthetics
Email address jcr3@wlv.ac.uk
Phone number 01902 2017
Location

MK303

Faculty

Faculty of Arts

Institute

Wolverhampton School of Art

Areas of expertise

Professor of Art & Aesthetics
Professor John Roberts is an internationally known writer, in the areas of art theory, cultural philosophy, and art and political philosophy. He is currently leader of the Research Cluster, 'Art, Philosophy and Social Practice' in the Faculty of Arts at the UoW. In his earlier career he worked as an art critic and curator, organizing major exhibitions at the Serpentine Gallery, the Venice Biennale and Camerawork, London, along with projects in Hamburg and Liverpool.
Following his first degree in English and Art History (Middlesex Polytechnic 1974-1977) Professor Roberts taught and lectured extensively in various fine art departments throughout the UK and overseas, including Goldsmiths (MA Fine Art) University of Northumbria (MA Fine Art) and the National College of Art & Design, Dublin. In 2005 he gained a PhD on the basis of previously published work, from the UoW with a written commentary, entitled 'The Logics of Deflation: Autonomy, Negation and the Avant-Garde'. Since 2000 he has been an invited speaker at numerous Universities, museums and public galleries in Europe and North America, including, University of Copenhagen (2001), Aarhus University (2002), Jan van Eyck Acadamie, Maastricht (2004), Documenta 12, Kassel (2007), Museum of Contemporary Art (MACBA), Barcelona, (2008), University of Warsaw (2011), Bergen National Academy of the Arts (2011), International University of Andalucia, Seville (2011), Princeton University (2011), University of Vienna (2011), Moscow Polytechnic Institute (2013), Karlsruhe Institut für Technologie (2013), Museo Nacional Centro de Arte: Rainer Sofia, Madrid (2013), Stedelijk Museum, Amsterdam (2013), Institute for Cultural Inquiry, ((ICI), Berlin, (2013). Sorbonne Nouvelle, Paris (2013), National Center for Contemporary Art, Moscow (2014), Goether-Universasität, Frankfurt am Main (2014), Hochschule, Karlsruhe, (2014), Galerie Thomas Flor, Berlin (2014), Kunstpavilion, Innsbruck (2014), Manifesta 10, State Hermitage Museum, St. Petersburg, (2014), HAU (Hebel am Ufer), Berlin (2015), Concordia University, Montreal (2015), Yale University (2015), Dublin Institute of Technology (2015), Künstlerhaus Museum of Modern Art (MUMOK), Vienna (2016), University of Paris-8 (2016), Zeppelin University, Friedrichshafen (2016), Brussels Centre for Fine Arts (2016), Staatliche Hochschule für Bildende Künste, Frankfurt am Main (2017), and Schaulager, Basel (2017).
REF Outputs
His recent research has covered: the historical and contemporary avant-garde, the political economy of art, art and social agency, skill and deskilling in art, art and the 'everyday', photography, violence and the philosophy of representation, 'error theory' and epistemology, and the critical relationship between contemporary art theory, philosophy and cultural theory. He is currently working on a project on reason, personhood, and the Enlightenment.
Recent Publications:
The Intangibilities of Form: Skill and Deskilling in Art After the Readymade (Verso 2007)
The Necessity of Errors, (Verso, 2010) (German translation, Die Notwendigkeit von Irrtümern, Laika, 2016)
Photography and Its Violations, (Columbia University Press, 2014)
Revolutionary Time and the Avant-Garde (Verso, 2015)
Thoughts on an Index Not Freely Given (Zero Books, 2016)
Boris Arvatov, Art and Production, edited by John Roberts and Alexei Penzin, with an introduction by John Roberts and an afterword by Alexei Penzin (Pluto Press, 2017)
His The Reasoning of Unreason is forthcoming from Bloomsbury in 2018
Lectures:
April, 2015: Conference, 'Political Violence and Militant Aesthetics After Socialism', Yale University.
August 21-24, 2014: Conference 'Mass Culture and Cultural Theory Now', Institut für Sozialforschung and the Department of Theater, Media and Film at Goethe-Universität Frankfurt.
July 12, 2014: 'Everyday Now', ICA, London.
June 30-2 July, 2014: Conference 'The Avant-Garde, Transmateriality and the Second Economy', 'Production of Humanity: Russian Avant-Garde between Bipolitics and Neohumanism', National Centre of Contemporary Art, Moscow.
June 13, 2014: 'Conceptual art, Bildung, and the Intellectual Division of Labour',Symposium Kunstlerhaus Buchsenhausen, Innsbruck.
May 14, 2014: 'Photography and Its Violations', London College of Communications.
May 9, 2014: 'Ideation, Abstraction, Photography', Symposium, 'Photography and Abstraction', University of Westminster.
April 25-27, 2014: 'What is Art's Second Economy?','Artistic Production in the Moment of Cognitive Capitalism', Symposium, Art Brussels.
March 20, 2014: 'Realism, alter-realism and the problem of legibility', Literature and Visual Cultures Research Seminar, Senate House, UCL.
February 14, 2014: lecture Art, Negation, and the Politics of Time, Thomas Flor, Galerie, Berlin.
December 15, 2013: seminar on 'L'Erreur/Error, Sorbonne, Paris.
November 30, 2013: lecture The Political Economy of the Image, Edinburgh University.
November 29, 2013: lecture The Political Economy of the Image, Glasgow School of Art.
October 24, 2013: Surplus Desire, Conversation with Maria Fusco and Diedrich Diederichsen, ICA, London.
October 23, 2013: Symposium on Making/Unmaking, Camberwell School of Art, London.
November 25, 2015: Kunstler Haus, Stuttgart, Cambridge University.
December 12-13, 2015: 'Retheorising the Avant-garde Today'.
January 23, 2015: Museum Moderner Kunst, Vienna.
Publications:
Roberts, J. (2013) Dialectic and Post-Hegelian Dialectic (Again): Zizek, Bhaskar, Badiou, Journal of Critical Realism, Vol 12, Number 1.
Roberts, J. (2013) Art, Politics and the Topological Turn in Karen van den Berg and Ursula Pasero (eds), Art Beyond the Art Market, Berlin and New York: Sternberg Press.
Roberts, J. (2013) Art and Praxis: Metastasis, Legibility, Situatedness in Suzana Milevska (ed) The Noologist's Handbook and Other Recent Art Experiments2008-2012, Berlin: Archive Books.
Roberts, J. (2013) 'Temporality, Critique and the Vessel Tradition: Bernard Leach and Marcel Duchamp, The Journal of Modern Craft, Vol 6, Issue 3.
Roberts, J. (2012) Labour, Emancipation and the Critique of Craft-Skill, The Journal of Modern Craft', Vol 5, Issue 2.
Roberts, J. (2011), Revolutionary Pathos, Negation and the Suspensive Avant-Garde, New Literary History, No 41.
Roberts, J. (2011) Photography, Landscape and the Social Production of Space, Philosophy of Photography, Vol 1, No 2.
Roberts, J. (2010) The Curator as Producer: Aesthetic Reason, Non-Aesthetic Reason and Infinite Ideation, Manifesta No 8.
Roberts, J. (2010) Art After Deskilling, Historical Materialism, Vol 18 No 2.
Roberts, J. (2010) Philosophy, Culture, Image: Ranciere's Constructivism, Philosophy of Photography, Vol 1, No 1.
Roberts, J. (2010) Pointing To: Trauma Ostension and the Photographic Document, Parallax, No 55.
Roberts, J. (2009) On the Limits of Badiou's Theory of Negation in Art, Journal of Visual Arts Practice, Vol 7, No 3.
Roberts, J. (2009) Art and Its Negations, Third Text, No 104, Vol 24, Issue 3, May.
Roberts, J. (2009) Productivism and Its Contradictions, Third Text, No 100, Vol 23 Issue, 5 September.
Roberts, J. (2008) Memories, History, Mnemotechnics. in The Lining of Forgetting. Greensboro, North Carolina: Weatherspoon Art Museum.
Roberts, J. (2008) The Amateur's Retort. in Amateurs. San Francisco: CCA Wattis Institute.
Roberts, J. (2007) The Intangibilities of Form: Skill and Deskilling in Art After the Readymade. London and New York: Verso.
Roberts, J., and Wall, J. (2007) Post-60s Photography and Its Modernist Context: A Conversation Between Jeff Wall and John Roberts. in Wall, J. (ed.) Jeff Wall: Selected Essays and Interviews. New York: MoMA.
Roberts, J., Beaumont, M., Hemingway, A., & Leslie, E. (2007) As Radical as Reality Itself: New Essays on Marxism, Art and Aesthetics. Peter Lang.
Roberts, J. (2006) Philosophizing the Everyday: Revolutionary Praxis and the Fate of Cultural Theory. London: Pluto Press.
Roberts, J., & Wright, S. (2004) Art and Collaboration Introduction, and Collaboration as a Problem of Art's Cultural Form. Art and Collaboration: Special Issue of Third Text, 18(6), pp. 531-532 & 557-564.
Roberts, J., & Beech, D. (2002) The Philistine Controversy. London and New York: Verso.
Professor John Roberts is Director of Studies for the following PhD students:
Michael Birchall,
Carina Brand,
Christopher Gomersall,
Fiona Jardine,
Ben Seymour.
PhD Supervisions
Philosophy of Art/art theory
Philosophical aesthetics (Rousseau, Kant, Schiller, Hegel)
Modern and contemporary philosophies of art (Adorno, Cixous, Luhmann, Rancière, Badiou, Virno, Nancy, Stiegler)
Theories of modernism (Duchamp, Greenberg, de Duve)
Contemporary art and theory (relational/post-relational aesthetics, participatory
Art, theories of the technological image, documentary practice, the avant-garde)
Cultural theory
Post-60s cultural theory (Lefebvre, Debord, Fanon, Kristeva, Guattari, Jameson, Butler, Harvey, Crary)
1960s English counterculture and popular music (song-form)
Contemporary dramaturgy (Boal, Müller, Lehmann, Badiou)
Political and Social Philosophy
Faith and reason (Aquinas, Ockham, Descartes, Kant, Herder, Hegel)
Error and truth (Descartes, Spinoza, Kant, Hegel)
Value theory and the commodity form (Marx, Lordon, Tomsic, End Notes, Stiegler)
2009 Andrew Yarnold, 'Aura, Craft and Labour: The Critical Dialogue between Photography and Painting'
2010 Euripides Altintzoglou, 'Dualism and the Critical Languages of Portraiture'
2012 Robert Grose, 'Instances of the Emergence of the Documentary Real within Relational and Post-Relational Aesthetics'
2014 Fiona Jardine, 'The Divided Seal: Reading a History of Signatures in Visual Art through Derrida's Signature Event Context'
2015 Michael Birchall, ' The Curator as Producer in Socially Engaged Art, 1993-2015'
2015 Carina Brand, 'Global Extraction and Cultural Production: An Investigation of Forms of Extraction Through the Production of Artist-Video'
2016 Christopher Gomersall, 'Between Nature and Freedom: Culture, Progress and Support for the Arts'
Further links and information: