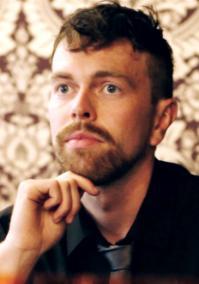 Gavin Rogers
Senior Lecturer - Fine Art (Public Realm)
Email address Gavin.Rogers@wlv.ac.uk
Phone number 01902 1909
Location

MK705

Faculty

Faculty of Arts

Institute

Wolverhampton School of Art

Areas of expertise

Public Realm, Live Art, Mixed Media, Video, Installation, Community Engaged Practice, Curating, Psychogeography, Contextual Studies
Gavin Rogers is an international artist, performer and socially engaged researcher living and working in the United Kingdom. His practice is situated across a range of media from performance to sculpture. Gavin has particular interest in the area of identity; juxtaposing, stereotyping and discovering personal, social and psychogeographical identities though visual, textual and verbal languages.
Psychogeography,
Situationism,
Cultural Policy,
Arts Pedagogy,
Community Engaged Practice,
Politics as practice.
BA (Hons) Fine Art,
MA Culture, Creativity and Entrepreneurship,
MPhil Community Engaged Practice,
PGDip Professional Research Practice,
PhD Whose Art is it? Representing and testing Cultural Visions of a City. (Pending Award),
Advanced Certificate in Singing and Vocal Techniques,
ONC Level 3 Mentoring.
External papers and conferences:
Victoria University, Melbourne – My city and me. April 2014,
Monash University, Melbourne – Performance Ethnography: Discovering Cities. Paper and Seminar. April 2014,
Presented a paper at TATE Gallery, London, as part of the DCMS conference,
DMCS 'Arts Education' Conference at the London School of Economics, May 2013,
Fly on the wall - 5th Annual Research Practice Conference, Nottingham Trent University, 2013,
Wise Wanderings – SPACE and the Humanities Research Cluster, School of Design and Built Environment, Nottingham Trent University, 2012,
Public Engagement in Research – Presented a seminar session and Lecture as part of the Postgraduate Research Festival, ADBE, Nottingham Trent University, 2013.
Teaching and curating for the Fulbright Institute (UK/USA),
Curriculum design for the National Saturday Art and Design Club (Sorrell Foundation),
Art exhibitions - Group and Solo (UK, USA, Australia),
Art residencies and academic conferences - (UK, Australia),
Curating exhibitions - (Birmingham, Leeds, Nottingham, Wolverhampton, London),
Education and outreach consultancy (Aimhigher, Leeds City Council, Derby City Council).