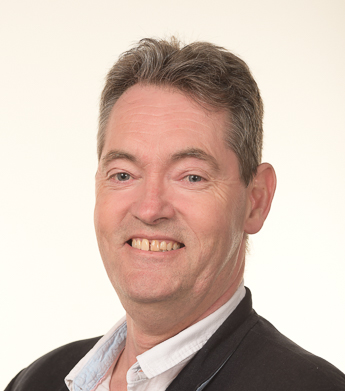 Don Adamson
Principal Lecturer for Student Experience, Faculty of Arts
Email address D.Adamson@wlv.ac.uk
Phone number 01902 1928
Location

MK305

Faculty

Faculty of Arts

Institute

Wolverhampton School of Art

Areas of expertise

Video, Film Production
Don Adamson is the Principal Lecturer for Student Experience within the Faculty of Arts. In addition to his managerial work within the faculty He teaches within the School of Media specialising in Video and Film Production. Don has taught on, and developed all areas of the curriculum of Video and Film Production during his 21 year career with the University and is currently concentrating on the areas of technical aspects and drama.
As part of his MA studies at Staffordshire University together with his colleague Tracy Mccoy he designed and created, 'More than Seven Storeys' an on-line community archive revealing the experiences of those who have worked and studied at the Faculty's iconic Wolverhampton School of Art Building (www.40ad.co.uk). Don still runs this archive.
Before joining the University Don specialised in theatre and community arts work. A key area of interest was and remains educational theatre, in particular, TIE. After working in community theatre and arts in Bristol it was TIE that brought him to the West Midlands. In 1989 he started work as the resident Stage Manager for Gazebo TIE, a company local to Wolverhampton that still tours today. He is currently working with Birmingham based Big Brum Theatre in Education (TIE) company in producing a video archive of the company's work including the work specifically written for Big Brum by playwright Edward Bond.
Current areas of research and development interest for Don are within the areas Arts archiving and Student attainment in Higher Education.
Fellow: Higher Education Academy
PG Cert Academic Practice in Higher Education
University of Wolverhampton
MA Interactive Multimedia (Distinction)
Staffordshire University
BA (Hons) Electronic Media with History of Art & Design
University of Wolverhampton
Book Chapter
Building a house on Sand? Student Attainment in Higher Education: Issues, controversies and debates Routledge (2016),
Shot and Edited sequences and supplied original historical work for books supporting website – Wooster, R 2016, Theatre in Education Britain Bloomsbury 2016,
Produced Video recording and editing: Angry Roads by Edward Bond, performed by Big Brum Theatre in Education Company 2015.