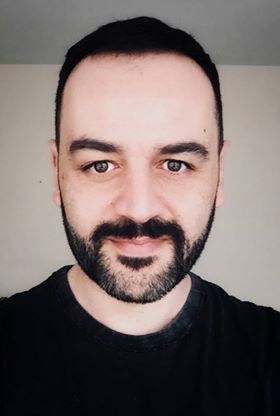 Demetris Zavros
Senior Lecturer in Drama
Email address D.Zavros@wlv.ac.uk
Phone number 01902 2338
Location

WH Building

Faculty

Faculty of Arts

Institute

School of Performing Arts

Areas of expertise

Music(al) theatre, Composed theatre, Postdramatic theatre
Demetris Zavros is a Senior lecturer in Drama and Course Leader of BA Acting at the University of Wolverhampton.
He is research group depute for CCHIP (Centre for Creativity, History and Identity in Performance). His research interests lie in the areas of contemporary theatre and performance praxis; postdramatic theatre; composed theatre and musical dramaturgies; and intermedial theatre practices and Practice-as-Research methodologies. He has a special interest in verbatim (musical) theatre (aesthetics and politics) and has been recently involved in a PaR project exploring intermediality and compositional practice in site-specific verbatim musical theatre for Pafos 2017 European Capital of Culture. He has published in the areas of composed theatre, Jan Fabre, postdramatic music theatre, and music-centric re-conceptualisations of myth in theatre and performance (through practice and publication). He is Associate Director of the theatre company Altitude North and has also worked as a freelance composer for the theatre internationally. In 2012 he received the Best Music Award for Electra and Orestes: The Trial (THOC).
Post-dramatic theatre
Composed theatre
Creating Music Theatre (composing, devising, directing)
The 21st century Musical
Verbatim musical theatre
Musical dramaturgy and intermedial performance praxis
Devised pieces with live musical soundscapes as interdisciplinary process
Recording and reflecting on creative and performance work as academic process
PhD (University of Leeds)
M.A in the Composition of Music for Film, TV and Theatre (University of Bristol)
Bachelor of Music (Composition) (Louisiana State University)
B.A in Mass Communication (Louisiana State University)
'Flooding the concrète: Clastoclysm and the notion of the 'continuum' as a conceptual and musical basis for a postdramatic music-theatre performance.' (Studies in Musical Theatre, vol. 2, no.1, 2008)
'Composing Theatre on a Diagonal: Metaxi ALogon, a Music-centric Performance.' (Roesner, D., and Rebstock, M., eds. Composed Theatre: Aesthetics, Practices, Processes, Bristol, Intellect, 2012)
Music-theatre as music: A practical exploration of composing theatrical material based on a music-centric conceptualisation of myth (PhD Thesis, University of Leeds, 2009)
'Jan Fabre's Prometheus Landscape II: [De]territorialisation of the tragic and transgressive acts of arson' (Rodosthenous G (eds.) (2017) Contemporary adaptations of Greek Tragedy: Auteurship and Directorial Visions. Bloomsbury Methuen Drama)
London Road: The 'irruption of the real' and haunting utopias in the verbatim musical (Rodosthenous G (eds.) (2017) Twenty-First Century Musicals: From Stage to Screen. Routledge.)
Employment History
Demetris has worked as a teacher in Primary, Secondary and Higher Education. He has also worked extensively as a freelance composer/director for the last five years collaborating with theatre organizations, groups, and artists internationally.
As a theatre and musical-theatre composer he has worked with the National Theatre of Greece, The National Theatre of Cyprus (THOC), The National theatre of Northern Greece, Nowy Teatr (Poland), West Yorkshire Playhouse, ETHAL, Persona, Altitude North, Amfidromo Chorotheatro and others.
He was also commissioned to compose music for a dance-theatre piece as part of the ceremony of the 50th anniversary of the Cypriot Independence (2010). He has also worked as Musical Director and Orchestrator in several projects including: Edinburgh Festival (Strangers in the House, Gingers The Musical), Maison de l'UNESCO (Musical Di-mentia, Paris, 2012).
Music for Theatre and Dance
Kali Kantzar & Co! (New Musical commissioned by and performed at the National Theatre of Cyprus and part of the European Program Young Europe, 2013. Also performed in Berlin, Germany)
Electra and Orestes: A trial (National Theatre of Cyprus, 2012)
Petros' War (National Theatre of Greece, 2011)
Whitsplit (Persona, 2011)
From a Thread (Independent Production, 2011)
Othello's Revenge (Altitude North, Commissioned by the Cypriot Embassy in Berlin, Cologne, 2010)
Body Faded Blue (National Theatre of Cyprus, Cyprus, 2010)
Happy Days (Nowy Teatr, Poznan, Poland, 2010)
La Commere (ETHAL, Limassol, 2010)
The Disease (Artos Foundation, Cyprus, 2009-2010)
Pachne (Festival of Philippoi, Kavala and Theatre Poreia, Athens, Greece, 2009)
The Fall of Icarus (Altitude North, Commissioned by the Cypriot Embassy in Berlin, Cologne, 2009)
A Second Chance (National Theatre of Northern Greece, 2009)
Poor and Saints (ETHAL, Cyprus, 2008)
Mela (West Yorkshire Playhouse, 2008)
Frozen (National Theatre of Cyprus 2008)
On/Off (National Theatre of Cyprus, 2007)
Ajax (Altitude North, International Festival of Greek Drama, Cyprus, 2007)
Tender Dearly (West Yorkshire Playhouse, 2007)
No Land ('Amfidromo Chorotheatro' Michalis Kakoyiannis, Athens, Greece, 2012)
No lines (Ceremony for the 50th Anniversary of the Cypriot Independence, ch. Elena Christodoulidou)
Blah, blah, blah …Black out ('Amfidromo Chorotheatro' for '10th Dance Platform'- Cyprus, 2010)
Triathlon (Altitude North, Cyprus, 2009)
Spun (Riccardo Meneghini, 'The Place', London and National Tour)
Carry on Tripping (Riccardo Menegini for Resolutions at ' Robin Howard Theatre' ('The Place'), Spring Hills Pree, London, March 2008, Latitude Festival, Suffolk, 2008, Blank Canvas, Leeds, April 2008)
A Woolf Counts the Stars ('Amfidromo Chorotheatro' for '3nd Dance Platform'- Cyprus, 2003)
Lifetime ('Amfidromo Chorotheatro' for 2nd Dance Platform- Cyprus, 2002)
Award: Demetris Zavros received the Cyprus Theatre Award 2011-2013(Best Composition) for his music in Electra and Orestes: ATrial (dir. Hannan Snir)
Teaching Responsibilities
4DR014 Performance Analysis: Fundamentals in Drama
4DR004 Practical Approaches: Performance skills
4DR005 Text: Challenging Conventions
4DR016: Performer Training: Voice
5DR005 Theatre Movements: Practitioners' Perspectives
6DR009 The Professional Project
7DR009 Advanced Research Methods
7DR008 Advanced Performance Making
Practice-Based Research
Performances
Metaxi ALogon (2008)
Clastoclysm: commissioned and performed as a work-in-progress at Song, Stage and Screen II conference (23 March 2007). In its completed version, Clastoclysm was performed as part of the festival-conference Masterworks (18 May 2007)
Icarus (2006)
AiAs Mana (2006)
Postgraduate Supervision:
Leonard Love: New British Musical Theatre in the 21st Century: an investigation of (under-)funding developments and creative processes.
Demetris is available for PhD supervision in the following areas:
Post-dramatic Music theatre
Composed theatre
Creating Musical Theatre (composing, devising, directing)
The 21st century Musical
Devised pieces with live musical soundscapes as interdisciplinary process
Improvisation and refining improvisational techniques for performance
Recording and reflecting on creative and performance work as academic process