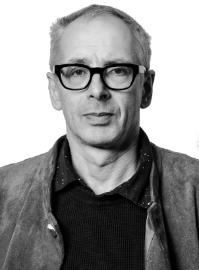 Dr Adam Kossoff
Reader in the Moving Image
Email address Adamkossoff@wlv.ac.uk
Phone number 01902 2935
Location

George Wallis Building, MK312a

Faculty

Faculty of Arts

Institute

Wolverhampton School of Art

Areas of expertise

Film practice, Experimental Film, Artist's Film, Moving Image Installation, documentary film, film aesthetics and theory, the cinematic long take
Adam Kossoff is a filmmaker-artist and writer whose research has been funded by the AHRC and the Arts Council. In the past few years his experimental and essayistic films have travelled the world to film festivals and screenings and are distributed by Lux.org. His work explores the spaces and places we live, and how the history of these spaces affect and move us in the present. His more recent work includes How They Hate Us (2016), U-Turn (2016), Animal Architecture (2014) and The Anarchist Rabbi (2014). He has recently screened and exhibited work at the London Film Festival (2016), Montreal World Film Festival (2016), the ICA (2016), East End Film Festival (2015), Wolverhampton Art Gallery (2015), Dudley Zoo (2015), and Whitechapel Gallery (2014), amongst others.
Kossoff leads the Digital Theory, Technology and Practice research group. Drawn from a cross-disciplinary environment, DTTP brings together practitioners and theorists (including artists, experimental filmmakers, animators and digital artists and theorists) who experiment with the technological and performative potential of the moving image and the virtual.
An artist-filmmaker and writer, Kossoff's work addresses and questions the relationship of the moving image to different spatial and technological contexts. His recent practice includes essayistic documentaries on Palestine/Israel, nationalism and otherness, architecture and otherness and the relationship between space and place.
With his recent experimental Super 8mm films he has also been exploring the evolution and changing dynamics of analogue film in the digital age and is co-curating (with Simon Payne and Andrew Vallance) screenings/symposium on this issue for the Whitechapel Gallery, London.
2008 PhD by Practice (AHRC funded), Royal College of Art, 'Terra Ferma, Space, Place and the Moving Image'.
Selected exhibitions and screenings including –
2017: Animal Architecture, Architecture Film, London
2016: How They Hate Us..., Montreal World Film Festival, Animal Architecture, ICA
2015: How They Hate Us..., Ramallah, Palestinian Academy of Art, The Anarchist Rabbi, East London Film Festival
2014: The Anarchist Rabbi, Whitechapel Gallery, London, Athens International Film Festival, Ohio
2013: In the Forest, Flicker: Artists and Super 8, Smiths Row, Made in Wolverhampton, Globians Doc Fest (screenings in Berlin, Halle and Lubeck)
2012: Moscow Diary, Moscow Museum of Modern Art, Bradford International Festival, Director's Lounge, Berlin
Made in Wolverhampton, Flatpack Festival, Birmingham, London International Documentary Festival, Open City Documentary Festival, London (Shortlisted for Time Out Best City Film)
2011: Moscow Diary, Mina, Wellington, New Zealand and Fid Marseille*
2010: Whitstable Biennale and Oriel Davies Gallery
2009: Not Our Darkness, Art of Document, Warsaw, Fid Marseille, P3, London, Videoex, Director's Lounge, Berlin
2008: Claremorris Open, Ireland, New Creativity, Connecticut, USA, Diversions, Edinburgh Film House
2006: Angles of Projection Exhibition, Chelsea College of Art and Design, Moving Frame, Gulbenkian Gallery, Royal College of Art
2005: Experiments in the Moving Image Exhibition, Westminster University
2004: Framed Space, 2 Willow Road, London
2001: East International, Norwich
After working in the theatre as a writer/director, Kossoff began making films for television and the cinema in the 1980's, including several documentaries and a feature film. I subsequently branched out into more experimental and arts based areas.