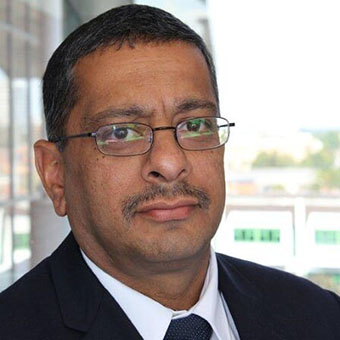 Our new Head of Law, Sukhninder Panesar joined the University in April 2016. Sukhninder has come to the Law School at a very important time with many changes ahead within legal and higher education.
With the proposed changes advocated by the Solicitors Regulatory Authority to routes to qualification as a solicitor, Sukhninder is overseeing the development of a revised LLB (Law) curriculum which will produce graduates who will have excellent opportunities to qualify as lawyers. As part of the Law School's strategic plan, the law degree will place greater emphasis on practical legal skills and there will be greater opportunities to undertake legal apprenticeships thereby allowing students to support their substantive legal knowledge with work based learning.
Sukhninder is also leading the Law School on providing greater support for its students and creating an environment in which they can not only learn the law, but also to put their learning into practice through the extensive links the Law School has with the profession.
Sukhninder says: "It is a great time to be joining the University of Wolverhampton Law School. With the move to a new building with new facilities and the offering of new and exciting programmes in law, I look forward to managing the Law School as a major provider of legal education."
Sukhninder has substantial teaching, research and management experience in Higher Education. He was previoulsy Head of Law at Coventry University where he also led on international development and research within the Law School.
He has over 25 years teaching experience in the areas of Equity and Trusts, Property law and International Business. As well as teaching in the UK, he has taught in many different countries including India, Mauritius, Middle East and Africa.
He has published widely in legal journals and is the author of two books in the field of Equity and Trusts and Property Law.