SCI-FEST sparks interest in STEM subjects
Wednesday 29 June 2016
SCI-FEST sparks interest in STEM subjects
The University of Wolverhampton has planned a host of events for its science festival family day on Saturday 2nd July.
SCI-FEST, now in its fifth year of running, has been designed with young people in mind and is switched on to spark interest in Science, Technology, Engineering and Maths (STEM).
The week-long festival plays host to school pupils of all ages from around the region ranging from those studying STEM subjects primary school, GCSE, A Level and BTEC levels.
The family day, which runs from 10.00 am until 4.00 pm with free entry, offers a range of free workshops, experiments, games and drop-in activities – all designed to bring STEM subjects to life. All ages are welcome to attend.
Children's TV presenter, Radzi, will be shining the spotlight on experiments and The One Show's resident scientist, Dr Marty Jopson, will be looking at the science of everyday life by asking questions like why do cakes rise and why do soap bubbles burst? The University's Science Shack team will be taking a journey through time and there will be a petting zoo, an eye-opening guide to the stars at night in an inflatable dome as well as an architecture exhibition and radio controlled cars and drones.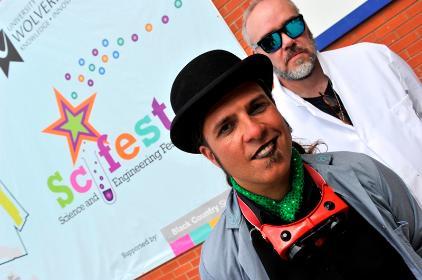 Raul Sutton, Associate Dean of the Faculty of Science and Engineering, said: "The whole idea of SCI-FEST is to show people that science and technology is exciting and fun and we hope that, as well as enjoying what is on offer, people will learn something new as well.
The University is investing over £100 million in new facilities for its Science and Engineering Faculty and interest in our STEM courses is increasing every year. Our aim through SCI-FEST is to showcase the range of subjects we offer while at the same time offering a day of family fun."
Anyone interested in learning more about SCI-FEST should check out the website: http://www.wlv.ac.uk/about-us/our-schools-and-institutes/faculty-of-science-and-engineering/scifest/.
Share this release