Lecturers go on location to unravel the mystery of science
Tuesday 09 February 2016
Lecturers take to the local pub to unravel the mystery of science
Academics at the University of Wolverhampton are taking science out of the classroom and into the community – using a local pub venue when they perform their next lecture: 'Are We All on Drugs?'
Science Shack is a public engagement scheme which has seen the team from the Faculty of Science & Engineering visiting local schools and community venues to unravel the mystery of science – encouraging audience participation through physical demonstrations and showing science off through performance, theatre, illusions and mind tricks.
Dr Martin Khechara, Lecturer in Biomedical Science (Microbiology) at the University of Wolverhampton, said: "Our aim is to make science less highbrow by taking it into the heart of our community and performing it in a way that people can easily understand.
"The next informal lecture we're offering asks the question about whether we are all on drugs and explores, through theatre and performance, how addiction works and how drugs of all types affect the mind and body. We'll also be looking at the effects of clinical trials.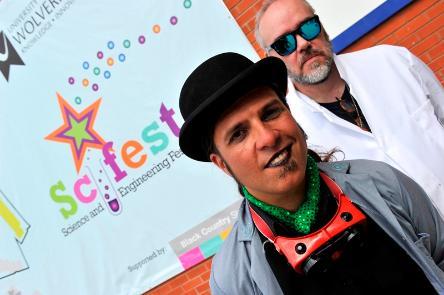 "We've chosen a pub in the centre of Wolverhampton to create an informal platform of exploration for science and hope that members of the public will come along to listen or to participate – we've even got an 'open-mic' spot for anyone who wants to join in and share their experiences!"
The Science Shack team will be at The Cuban Exchange on Thursday 18th February 2016 from 7.00 pm until 9.30 pm and the event is open to anyone over 18. For more information about the Faculty of Science & Engineering, check out the website: http://www.wlv.ac.uk/about-us/our-schools-and-institutes/faculty-of-science-and-engineering/ and for more information about Science Shack, check them out on YouTube: https://youtu.be/TN4fXXzHZMM or follow them on Twitter @ScienceShack.
ENDS
For more information please contact the Media Relations Office on 01902 322003/322736
Date Issued: 10th February 2016
Share this release