Exhibition: In Praise of Shadows by Lesley Halliwell
When?

11 April 2019 - 30 May 2019 , Various

Where?

Made in Wolves Gallery, Millennium City Building, University of Wolverhampton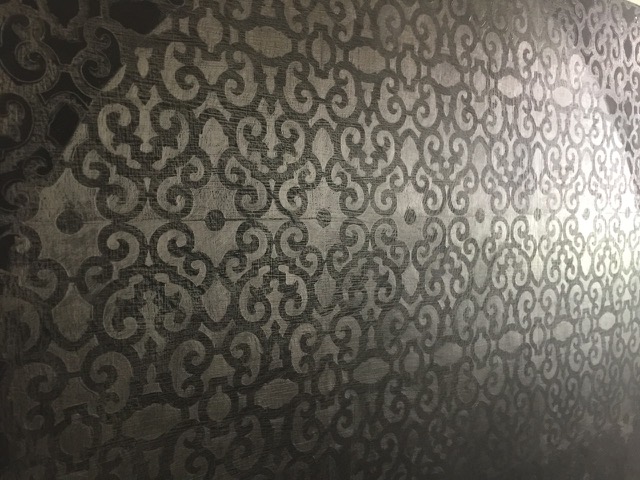 The Wolverhampton School of Art is delighted to be exhibiting new works by artist Lesley Halliwell in the Made in Wolves Gallery, Millenium City Building from the 11th April - 30th May as part of Artsfest 2019.
In Praise of Shadows brings together paintings, drawings, artists' books and video works, that mutually explore pattern, surface finishes, reflectivity and lighting effects. In the images presented in this exhibition, pattern is confounded by the reflective surface. Shine and sheen invite the viewer to enjoy multiple readings as the work is seen from different viewpoints that radically alter highlight and shadow.
The exhibition title is taken from a book of the same name by Jun'ichirō Tanizaki. Tanizaki explains how the West, in its striving for progress, searches for light and clarity, while oriental art and literature seek subdued forms that encourage an appreciation of shadow and subtlety. The works in this exhibition look for the effects of light within a world laden with shade, whether the sharp shaft from a gilded surface, or the silvery sheen of graphite on deep black, and the quiet sensuousness of black on black. The viewer is encouraged to dwell, to slow down and reflect on being present in a world of detail that is revealed and obscured through shadow.
Events
Exhibiton Opening: Thursday 11th April, 10am, Made in Wolves Gallery.
Join us for the launch of In Praise of Shadows over coffee and refreshments.
In Conversation: Thursday 16th May, 4.30 - 6pm, Made in Wolves Gallery.
Meet the artist and find out more about the exhibition through and informal tour and conversation with Lesley Halliwell.
About the Artist
Based in the North West, Lesley Halliwell is currently undertaking a practice-based PhD (AHRC) at Manchester Metropolitan University. Trained as painter at Nottingham Trent University (BA (Hons) 1989) she went on to study Art History (Goldsmith's College, MA 1995) and Fine Art (Manchester Metropolitan University, MA 2001). She has exhibited her work in numerous exhibitions including: Beauty is the First Test,Pumphouse Gallery, London; The Drawing Show,Castlefield Gallery, Manchester; Jerwood Drawing Prize;Superabundant,Turner Contemporary, Margate; Bloombergs New Contemporaries.
Lesley has presented papers at recent conferences including Appropriation: the (Im)Materiality of Surface, De Montford University, Leicester (2018), Drawing Conversations 2,Coventry University (2017) and Troubling Time, University of Manchester (2017). Her artwork and research is featured in the journal Drawing: Research, Theory, Practice.
Vol. 4. No. 1.
(March 2019).
Back